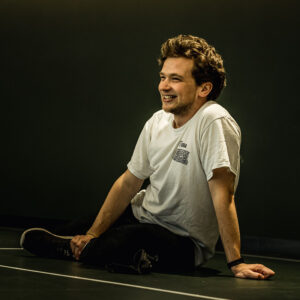 Joe began working as a theatre director in 2016, after studying French and Spanish at Leeds University.
He has worked on new writing, devised pieces and musical theatre, as well as extensive community and education work. He has created shows for the Royal Exchange Theatre, Leeds Playhouse and Manchester School of Theatre. In 2019, he won the Off Cuts Best Director award. From 2018 – 2021, he led the youth theatre at Bolton Octagon.
Joe's background in Youth Theatre has given him a passion for collaborative working, as well as skill in bringing high-quality projects together in short time frames and on modest budgets! His favourite kind of work is theatrical, epic storytelling, addressing serious issues in funny and exciting ways. He aims to create theatre that transports audiences beyond what they know, making them laugh, cry and gasp in wonder!
He has worked as Associate Director for Told By An Idiot, and as Resident Assistant Director at ArtsEd Drama School. He has written for The Stage and in 2018 founded and ran Manchester's Big Theatre Podcast, interviewing leading industry figures. Joe is currently furthering his training on the MFA Theatre Directing course at Birkbeck College.